Just like you take complete care of the interiors of your house, you must also be on top of landscape maintenance all through the year. It needs some amount of effort and knowledge to shape your lawn correctly. Landscape maintenance is not just about mowing; it includes pruning, weeding, providing fertilizers, preparing the soil, planting, and much more. But a healthy and attractive lawn will ooze freshness and positivity. It will also create a positive impression and increase the value of your property.
Be it the rains at the beginning of the year or the spring setting after that; you must be aware of the seasonal changes in Santa Barbara. It will help you prepare the soil well in a better manner. Keeping your landscape neat and tidy is not as difficult as you are imagining. We will provide you some tips on how to handle landscape maintenance in Santa Barbara.
Watering – Your lawn needs watering all year long. During the summer, when the grass is in full growth, you must water the garden thrice a week. While during winters, when the growth rate is slow, you must water is less, maybe once a week. Do not over or under water. Overwatering will lead to the growth of excessive weeds and fungus, while underwatering will eventually let the plants die. One tip to understand that your landscape needs watering is when the turf loses its bounce.
Mowing – The second most crucial thing in landscape maintenance is mowing. Just like you cut and trim your hair to ensure regular growth, similarly mowing is essential. You must maintain around three to four inches of grass. During summer months, you should mow twice a week. The government at Santa Barbara is practicing sustainable landscaping. Hence, after cutting, you must create compost from the waste and use it to feed to the soil.
Feeding – You must supply your garden and lawn with proper fertilizers. The amount of nutrients depends on soil quality. During summer, the feeds must be nitrogen-rich, while during autumn, you must ensure potassium in the feed. At least one or twice a year, feed your landscape with liquid fertilizers.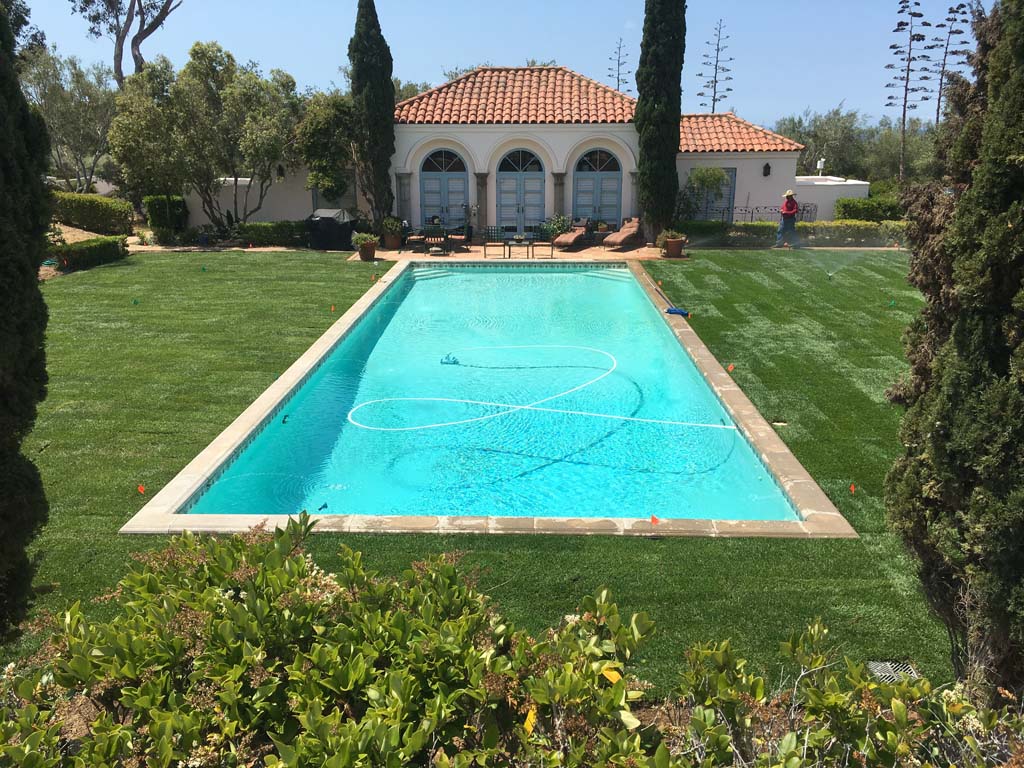 Having focused on these aspects lets understand your top 4 activities under landscape maintenance:
Cleanliness is next to Godliness – Be it summer or winter, you must always keep your lawn clean. Clear all the fallen leaves, dead grass, branches, perennials, pinecones, and animal wastes. You can even try to prepare an organic compost with these garden wastes.
Prepare well for the future – If you are planning to plant seeds on an already prepared bed, then first remove the weeds. Now put additional compost around the bed and then plant your seeds. While making a new bed, kill the grass first, followed by applying a layer of landscape fabric. It will keep the weed away. Next, put a layer of mulch followed by the newly prepared soil.
Plant the seeds – The next step in landscape maintenance is planting the seeds. If you have perennial plants, trees, and shrubs, then you must plan to plant them around early spring. Plant the tender plants during the latter part of the year. Add conditioners or soil fertilizers during the early spring for the best impact. Also, do not forget to add a layer of mulch after that.
Weed Control is essential – Instead of waiting for the weeds to grow, you must control them by early mowing. If you want better protection against weeds, then apply a pre-emergent application to your landscape and lawn. Each time you see the weeds growing, mow them away to keep your plants safe.
Pruning is necessary – This seems to be the most straightforward task in landscape maintenance. Pruning dead branches is undoubtedly an easy task. But pruning live branches is a different ball game altogether. If it goes wrong, you might end up damaging the plant and even kill it.
That would be all for you to take your first step in landscape maintenance. If you feel the entire task is overwhelming, then you always have the option of calling a professional service in Santa Barbara. Keep your laws clean and let them look amazing.